Once you have been accepted into our Candidate network, you are able to browse a directory of active Underdog.io companies to learn more about them. To begin browsing our directory in order to find companies you may be interested in, first head to the 'Companies' tab. From here, you'll see several options for filtering your results on the left-hand side of your screen.
By default, you will see a list of companies in All Locations, of All Company Sizes, and in All Industries. To search for a company by name, you can utilize the 'Search companies' bar. To narrow your results by location, select the arrow beside 'All Locations', and then check the appropriate box next to the location you are considering. To filter by company size, select the arrow beside 'Company Size,' and then check the box next to the company size ranges that appeal to you. If you'd like, you can select several Company Size options at once. To filter by industry, select the arrow beside 'Industry', and check the box beside as many Industry options as you'd like. If you'd like to see a list of organizations who are growing quickly, and intend to hire multiple Underdog.io candidates, select the box beside 'High Growth.'
You can also sort your results by a few additional parameters that you'll see on the right-hand side of the screen. To see those organizations with the most recent activity, select 'Most Active'. To find organizations that most recently joined our network, select 'Newest'. To sort the list alphabetically, select 'Company Name'.
Once you've located a company you're interested in speaking with, you can elect to 'Show Interest' in their organization. Doing so will open a modal that will prompt you to share a message with their hiring team. We encourage you to be as specific as possible in your message: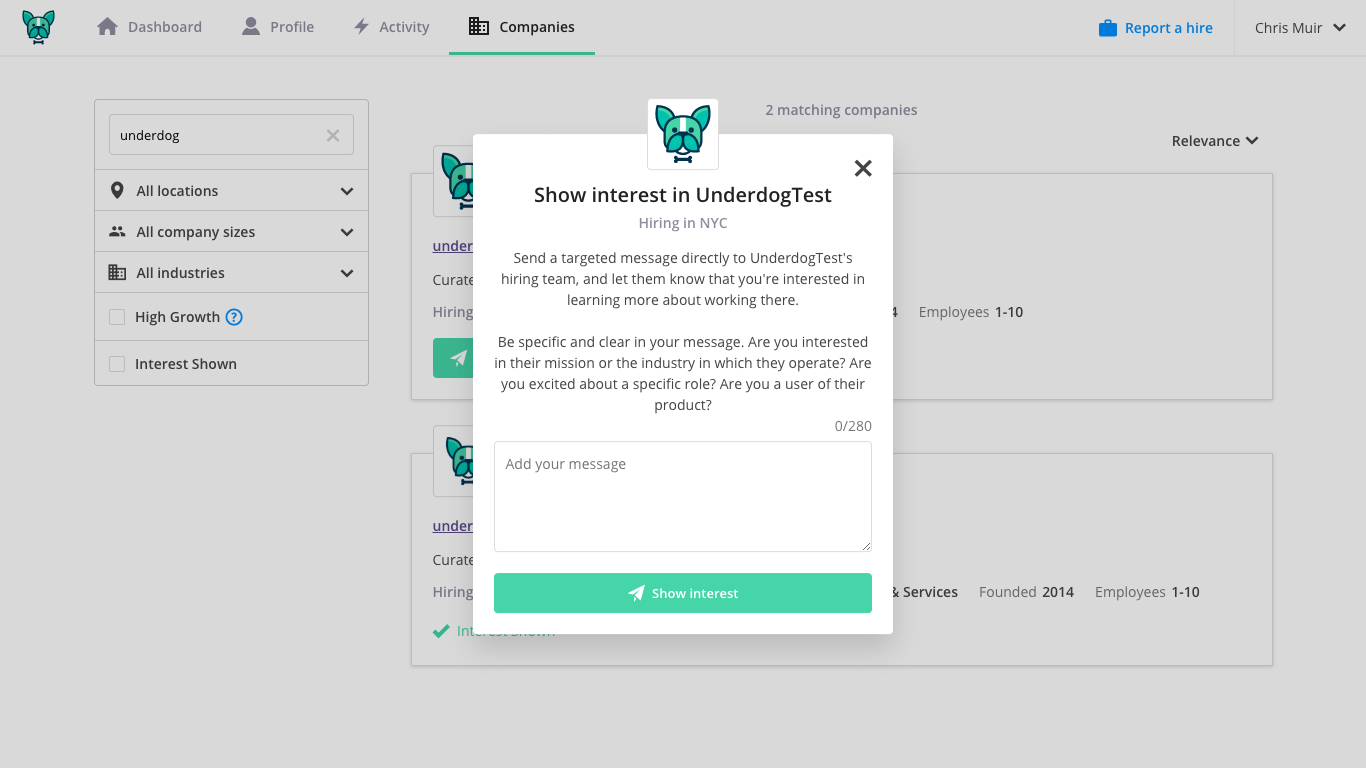 The 'Show Interest' button will appear greyed out for companies who are not currently accepting 'Interest' messages. You will be able to 'Show Interest' in as many companies as you'd like, starting on the date your profile has been shared to a batch, to the date your profile cycles off the platform. We encourage you to express interest in any company we work with—whether they've viewed your profile or not.
Showing interest in a company will notify the organization via email that you are interested in speaking, and will also add a notation to your Candidate profile, visible to users from that organization:

Once you've 'Shown Interest' in a company, you'll be able to filter for those organizations you've shown interest in using the 'Interest Shown' filter in the left-hand panel. Choosing this filter will show you the history of organizations you've shown interest in: